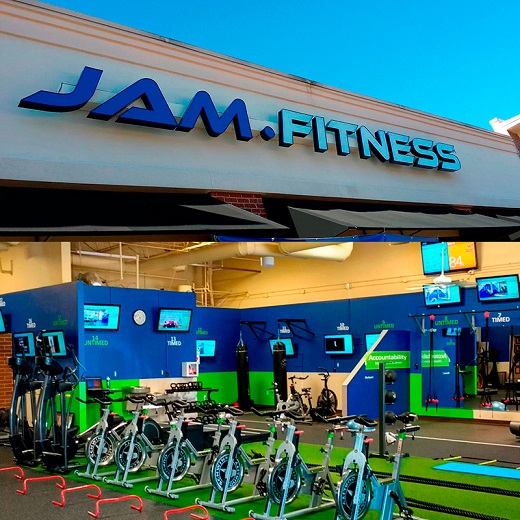 Thinking about a new club?
Like the idea of done for you design, colors and logo?
Looking for an innovative concept that doesn't require hundreds of thousands in liquidity?
JAMWORKOUT's JAM.Fitness license is right for you.  Flexible for any size facility, our low cost model allows you to make money quickly, without the burden of high equipment costs, big payroll expenses, or a huge lease.
The Challenge
Thirty years ago, deciding to open a fitness facility was risky.  Only a very small population really used gyms, and very few people understood the value.
These days, everyone knows they should workout, and there is no shortage of fitness offerings.  The challenge has shifted from not having enough members, to having too much competition in nearly every market.
So how will you and your new gym manage to stand out in a sea of other clubs?
Customized Design Set Up
From the initial consultation, we will help you determine the look and feel that is right for you.  Then we will provide you with a 3D design of what your space will look like.
2 Models to Choose From
JAM.Fitness offers two models- 1300 and 2600 sq.ft. locations.  This means you can choose the size you want, and the pricing that works in your budget.  And there is ALWAYS the option to grow.
Minimal Equipment Needs
Drawing on the popularity of functional fitness, kickboxing and HIIT, JAM.Fitness does not require tons of equipment. Additionally, we have resources to ensure that you get only the equipment you need, for the best price on the market.
Comprehensive Marketing and Launch Plan- Presale, Opening and Beyond
Whether you choose print or online marketing, our sleek professional marketing materials are provided to you as a franchisee, directly from the website.  Marketing is updated quarterly to keep your message fresh.  We also work with you to develop a marketing plan, from pre-sale to launch and beyond.
JAMWORKOUT Software Platform
With its integrated email client, heart rate monitor and CRM, there is no need to buy multiple software subscriptions.  API Integration means that JAM will work with most billing software, and you are not tied to a specific choice.
Complete Sales System CRM
No matter how great your club is, if you cannot convince someone to hand over their hard-earned money, your club will fail.  JAM.Fitness has a proven step by step sales system that works.
You and your team will receive online training as well as print materials to allow your sales to skyrocket.
Engagement and Retention CRM
Because we have been in this business for decades, we know that the largest single problem faced by fitness owners is retention OR how do I engage my members so they don't leave.  JAM.Fitness has you covered.  We will teach you how to connect to your members, their goals, and their assessments.
Ongoing JAM Support
As a franchisee, the JAMWORKOUT team will work with you to understand your reports, KPIs, and how to continue to engage and inspire your members.